In doing some last-minute research (mainly asking around to local Cubans), I decided that my next destination would be a well-established city named Trinidad.  I was again seeking older architecture and populations entrenched for many generations.  But I was stymied about how to get to Trinidad, for there were apparently no busses to take me from Havana.  I was told that I would have to go to another city, most likely one named Sancti Spiritus, some 15 miles further to the East, and an eight-hour bus trip from Havana.  On the afternoon of December 8th, I headed for the bus station – the one designated for foreigners, and spent some six hours lounging around the waiting area for the bus to arrive.  It was two hours late, and the two women behind the ticket window kept saying, "It's coming in a few minutes".  In the waiting area I met a younger couple from Russia, then struck up a conversation with a Canadian man who said he was in Cuba to work on various "infrastructure projects" with the government.  He expressed deep concern about the depletion of the Cuban national reserves, however, and didn't seem optimistic that Cuba would soon extricate itself from its economic predicament.  "There's no money for anything and the government can't even pay the workers," he mused.
After some eight hours on a frigid but otherwise comfortable bus, there was only a short, barking announcement of the bus' arrival to Sancti Spiritus.  I sleepily gathered my bags.  For a few seconds I wasn't even sure what the announcement said, but soon I found myself in a virtually empty and dark, modern bus terminal at 2:30 a.m.  Not able to go into the city at this hour, I settled in to a few metal bench chairs to await the sunrise, my only company an antideluvian insect that tried to hide in one of my bags, and a sort of long grasshopper, which I was able to catch in my hand and escort outside.  It grabbed my finger and held on, then sat on the pavement for some time, until I had to protect it for a minute by standing next to it while a newly-arrived bus emptied of passengers.  "Go!" I encouraged, as it eyed me curiously.
Miraculously, I found that the bus station had excellent wi-fi, so I was able to use one of my hard-won internet cards I had bought in Holguín and send some photos and a written entry.  At 8:00 a.m., I gathered my two big bags, heavy camera bag, and two smaller bags of comestibles, and moved outside to catch a taxi.  Surprisingly, no taxis seemed interested in me, except one that didn't know where my chosen casa particular was.  I had picked out the name of the casa from a seven-year old Google review I had just read while waiting in the bus station.  "Casa Azul" had a good review from a lodger, and I liked the name.  Ultimately, I was able to get to the place on a three-wheel taxi, though the driver had to make a few stops along the way to ask various people for directions.
Casa Azul is run by a dangerously overweight woman who met me from her perch in the kitchen at the top of a flight of stairs.  She complained of being unable to walk much, and over the next 24 hours I only saw her on her perch chair or spread-eagle and fully clothed on her voluminous bed.  Cost of the lodging was 1,750 Cuban pesos – yet another bargain at about $25; she requested Euros but reluctantly accepted my local currency.  When I inquired about breakfast, she quickly interrupted and said, "No, we don't serve food any more – just nothing available anymore."  Her daughter, Maria, took me up another flight of narrow metal stairs to my room, which was adequate and even had a sort of air conditioner.  Two roosters croaked incessantly from the neighbor's building, and Maria's radio played Cuban style Reggaeton music all day, but there was a delightful view from the third-floor terrace.
I soon found myself exploring Sancti Spiritus, one of the oldest Cuban European settlements and a quite delightful and colonial-style town with a central park, bridge over a river.  Sky-blue paint on buildings was common and in some cases merged with the brilliant sky of the day. There were a number of shops that, at one time, must have held many attractions for tourists.  I saw in one a couple of intriguing items and the store manager was delighted that I was interested in exchanging 15 Euros in order to buy two printed shirts.  The transaction was part of my research and I was curious about how ubiquitous was the hidden economy.  He expressed no concern that what we were doing was a black market transaction, but I was nervous and quickly left the area.  I visited a local produce and (ugh!) meat market, and was pleased to find some quality items for my later consumption, including one particularly delicious-looking pineapple.
Another clot of angry and sweating prospective customers in front of a cigarette store attracted my attention shortly thereafter, and I made some video clips for later editing.  Again, I was informed by one in the queue of the store quota, but it was even more severe: just three packs of cigarettes per customer.  Some shouting and name calling, but most in the patient group were civil and even good-natured.  I truly believe that no U.S. citizen or resident would ever put up with such a chronic and abusive situation; guns would be drawn and looting would ensue in short order.  The patience and civic-minded nature of Cubans is a testament to their character.
After returning to my casa to cut up and eat my pineapple, shower and rest to avoid the worst of the heat of the day, I packed up some things to poke around the town.  I again had three goals in mind: buy some more wi-fi cards and a bus ticket to Trinidad for the following day, and distribute some or all of the toys, Lego pieces, and candies I had brought in my luggage all this way.  I stuffed the entire amount of the latter – some seven pounds – into one large plastic bag and set out with my cameras and accessories. 
As soon as I left the building, I noticed a well-built three-wheel taxi pull up on the opposite side of the street and I asked the driver if he would take me to the "old bus station," as the one for Cubans is referred to.  He agreed and, noticing one of my cameras dangling from my neck, said he was a photographer, introduced himself as "Paco".  I realized I had again found another "angel" and we were soon en route.  Even with Paco's aid, I was unable to buy a ticket to Trinidad at the station (the passage is apparently not pre-ticketed but spontaneous).  I then told him of my plan to find "the most humble barrio" in which to distribute the toys and candies.  He said, "Well of course, it's just down the road, and some of my cousins live there".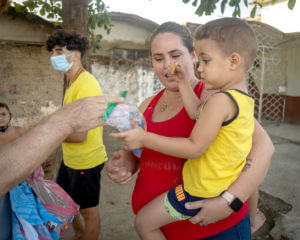 When we entered the neighborhood, however, I had second thoughts about the choice, for it was a rather typical block of apartments, albeit in bad shape and grimy.  Realizing that he probably wanted to help his "cousins" and their families, I nonetheless began to hand out the small bags of toys and (Halloween 2021) candies I had brought.  We went from street to street, and even into some apartments; I insisted that the ages of the recipients be from three to eight years.  Many recipients seemed confused, even skeptical, and when I gave my camera to Paco to take a few photos, one youngster cynically quipped, "What are you doing, just taking pictures?"  But poverty is relative and most kids were thrilled with their gift bags or candies.  Paco kept pointing to children with darker complexion, exclaiming at one young girl, "Mira, la negrita alli!" as if to support his decision for us to do the gift-giving in this barrio.  One seven-year-old boy was thrilled when I gave him a new, official Major League baseball, and Paco even expressed jealousy.  "Feliz Navidad!" I exclaimed at each exchange, and soon my bag was empty. 
The third goal for the day was also a non-starter, as there seemed to be no wi-fi cards at any of the shops we went to.  For his hour of service as my guide, I paid Paco what he asked for and then some.  He also agreed to meet me in front of my casa the next morning to take me to the old bus station. 
My dinner was a feast to me, cooked over my portable stove and Sterno fuel: brown rice and baked beans from my luggage, and my "salad" of green bell pepper and cucumber slices, from some items I had bought at a local market earlier that day.
NEXT STORY