Suddenly nauseous, I felt I just couldn't take another step under the scorching sun, and collapsed on a sidewalk to recover. It seemed all the hotels in the town of Wadi Musi were closed, so I would have no options but to keep climbing a steep hill. After I lay down on the cement in the shade for a few minutes, I began to feel better. Ramadan had affected the goings on of everyone and everything since I had arrived to Jordan in the middle of Summer, 2014. And the bus schedules were no exception. In fact, the bus I had planned for my return to the capital, Amman, had unexpectedly been cancelled. I had to make alternate arrangement, and fast–it was already late afternoon.
Unlike most tourists to this place, I had rejected the rides of taxis to the entrance – or even the mules and camels – as I explored and photographed the cavernous corridors and exquisite ruins of Petra.  My exhaustion and discomfort came from a combination of a week of exotic food, the omnipresent sun that day, extreme humidity, my carrying three cameras with lenses, and a dogged determination earlier that day to walk the entire distance from town center to the ancient ruins of Petra and back. I reckoned that the last time I had suffered such heat in this part of the world was actually another Ramadan, in 1983, when I was hitch hiking across the Sahara Desert from Morocco through Algeria to Tunisia.

After I sat up from the curb, I noticed two boys across the street staring and pointing at me, perhaps wondering whether I was in the throes of death. So as to not further alarm them, I slowly stood, placed my fully loaded Domke camera bag on my shoulder, and proceeded up the hill a bit. A car then stopped by me and I could see two amiable looking young men inside–perhaps local youths, or students. I chatted with them in Arabic and they offered me a ride. It would have been nice to get a ride closer to where I saw some hotels, but I didn't want to take the chance of problems, so I turned them down.
Struggling a bit more up the road, I finally came to a couple of hotels. Alas, both closed! I then discerned a third hotel further on, which I discovered to my relief was open for business. The owner, a charming lady from New Zealand who had settled in the town, was very accommodating and placed me a room with a fabulous view of the town below. Resting my elbows for stability as I held my camera, I took a few long exposures with my Nikon D610 from that window.  Inwardly rejoicing, I realized I would be able to rest at the end of that long day.
As I dozed off to the sounds of the call to prayer from a nearby mosque, and reviewed all of the stunning images I retained in my mind from that day, I concluded Petra was worth all of this hardship after all.
I was in the Hashemite Kingdom of Jordan for two weeks, to put the final touches on my Arabic language training, which I had undertaken at the U.S. State Department Foreign Service Institute for some 30 weeks prior to my journey. As part of the "language immersion," I was receiving daily, private tutoring and also circulating within Jordan. My goal was to speak in the Arabic language as much as possible. As a foreign service officer, I was preparing for my next posting as the information officer at the Consulate General in Jeddah, Saudi Arabia. There, I would need to speak Arabic often and well, as my position would involve regular interaction with the media and other entities as representative and spokesperson.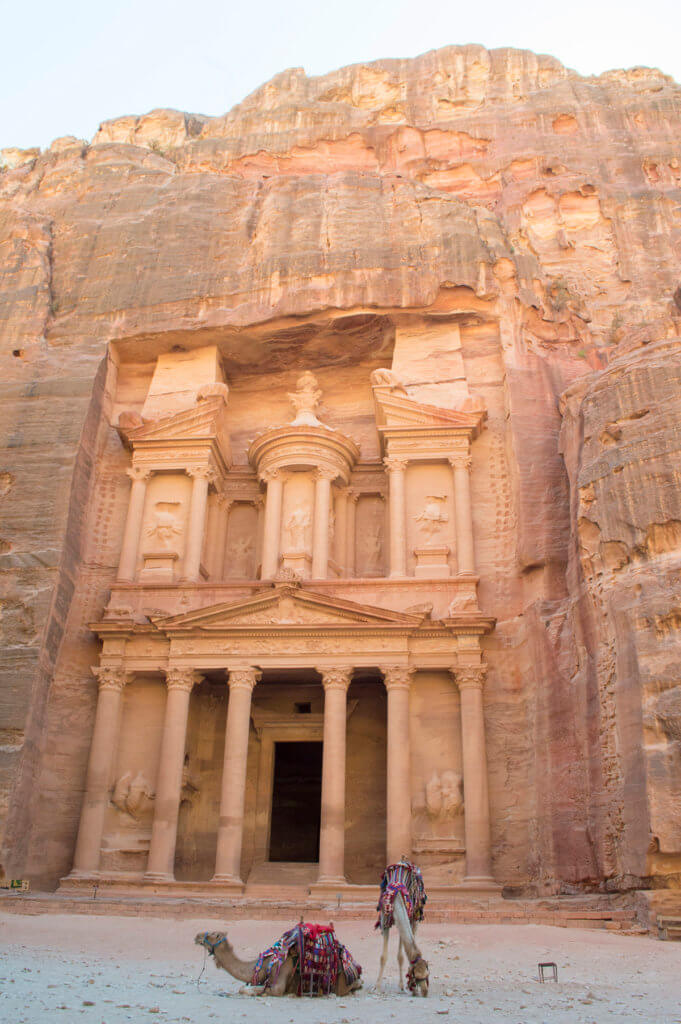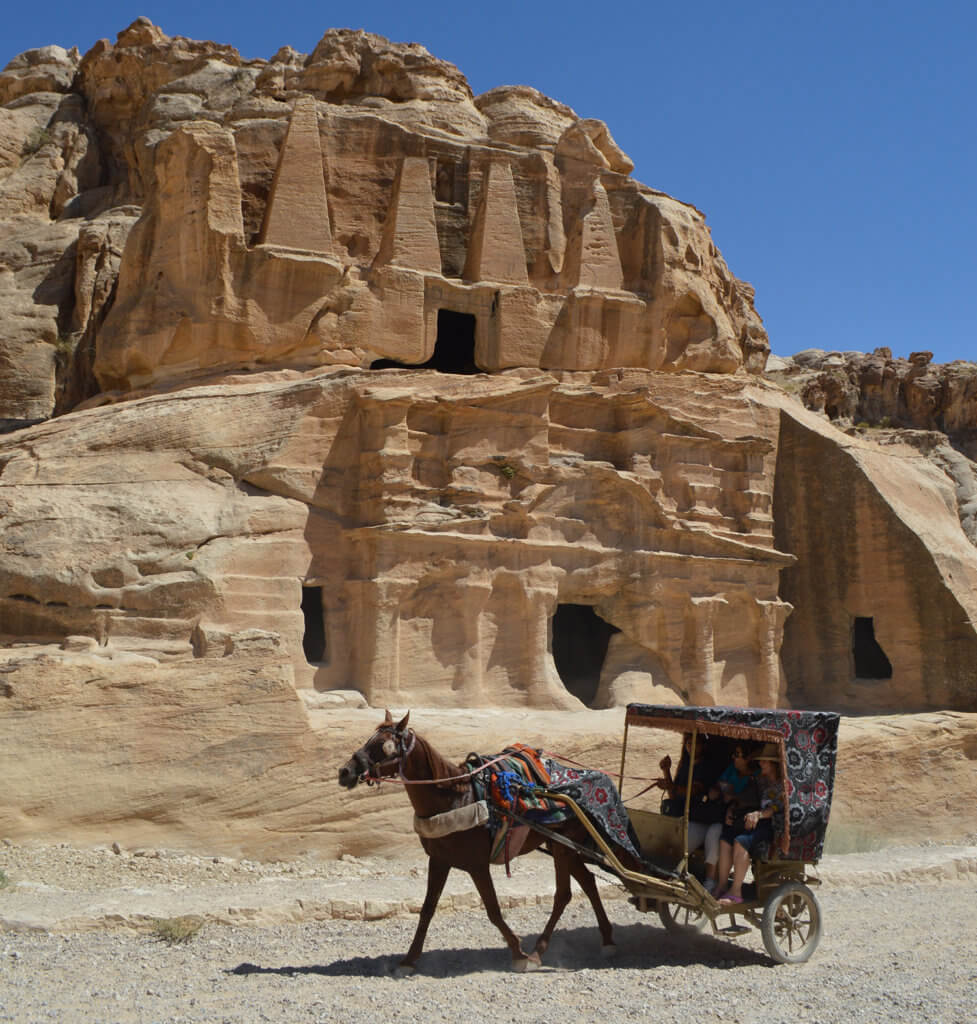 The trip to Jordan from Washington, D.C. was a grueling pair of flights, with a five-hour stopover in Dubai, U.A.E. and totaling 22 hours. As our Air Emirates jet descended into Amman through the morning haze, I figured I must be sitting on the wrong side of the plane, as I could observe no cityscape – only a broad expanse of desert and scrub, interspersed with patches of buildings. Where was Amman? It was only upon departing the airport was I able to gauge the immense size of the capital. Beige and white structures of all sizes unraveled into the distance, punctuated by a few modern skyscrapers.
I was picked up at the airport by a driver sent by The Lemon Tree Bed-and-Breakfast, where I was to stay. I noted en route that Amman looked fairly wealthy and clean, and, as with Cairo, enhanced with gently rolling hills and some higher overlooks. The drivers employed the same tactics I was familiar with from my visits to other Middle Eastern cities, where horn-honking was more apt than caution. I chatted him up in Arabic during the half hour trip, and we soon arrived to our destination, in the Jebl Webdei neighborhood.
At breakfast in my lodging's communal area the next day, I encountered a man who worked for the United Nations High Commission on Refugees, and we discussed the dire situation of Syrian refugees who were escaping the devastation and death of the Syrian civil war. As Jordan had done for decades, it generously opened its borders to the latest victims of war. These now numbered nearly 200 thousand Syrian refugees, with another 100 thousand internally displaced persons remaining in Syria. And these numbers were equaled by the refugees from Iraq a previous decade before and another hundred thousand or more Palestinian refugees from the past 40 years. Jordan truly had proven itself to be the epitome of Arabic hospitality and Quranic charity!
Over the days during my first week in Jordan, I enjoyed my private Arabic classes at the Al-Baher Center from early morning to midday, with two teachers, Sereena and Laila. Both were quite competent. Sereena was recently graduated from college but had innate skill. I had asked the school to make sure the teachers used the Direct Method of teaching, since I knew from my days of teaching via that method and studying four other languages that it was most efficient for conversation. Sereena was able to employ the method much of the time for verbs and phrases that were of highest frequency. I needed to focus on words that were related to politics, economics, media, and education.  In just three weeks from my arrival, I would return to the U.S. and take a final Arabic assessment centered on areas relevant to my next posting in Saudi Arabia as Information Officer and Press Attaché.
During my two weeks in Jordan, I not only visited some key historical sites and sought out fine arts images for two of my series, but interacted with Jordanians and people from neighboring countries like Palestine and Syria. I always tried to speak Arabic with everyone, and stressed to them that I was in Jordan specifically to study the language.
One day in the first week of my visit, I met Ali Ajaleh, a Jordanian graphic artist, photographer, and refugee activist. He, in turn, introduced me to some Palestinian expatriates who ran a non-governmental organization assisting Syrian and Palestinian refugees. I did some research and felt there was low risk in accompanying them to visit one of their camps. On Friday there were no classes, and we headed north to a camp where Syrians had sought refuge for more than a year. It wasn't a refugee camp per se, but rather an unauthorized camp which held the overflow from the nearby and largest Syrian camp, Zaatari, at that time populated by nearly 100 thousand souls.
The size of this ad hoc camp was about a half-square kilometer, with just 20 tent-like structures which purportedly held some 30 families. In the center of the area was a small, single story, concrete structure, in which resided the group elder, Ahmed, who also served as the camp leader. The summer heat sought us out mercilessly as we slowly toured the camp and peeked into some of the tents. I had brought a suitcase of items like aspirins, antibiotics and children's toys specifically for such a situation, but kept them in the vehicle for the time being. (I had learned from my work in Haitian refugee camps to hold on to any donations until it was time to depart, so as to not generate a frenzy.)
One of the mothers came up to me, asking if I could remedy a young daughter's troublesome skin rash. She pointed to the child's reddened scalp. I had nothing for relief, however, but documented the problem so I could share it with some medical staff I was in touch with. All the children in the camp were apparently afflicted with such a rash, and I found out later that it was probably related to the ubiquitous and noisome sand flies.
My two Jordanian NGO contacts and I sat down with the village elder, Ahmed, and I asked him to recount some of his recent challenges. About 65, he had, until recently, owned a thriving Syrian business, a clothing store. But when the terrible war caused by Syrian tyrant Bashar al-Assad began destroying his nation and massacring democracy-seeking Syrians in 2011, he and virtually all the neighbors were forced to flee. In the camp they had been able to carry in few few things to remind themselves of their former dignity and life.
As we sat on a large, well-worn and elaborate carpet, Ahmed's sons and a daughter drifted in to listen to our conversation. His wife brought us a tray of cups and pot of hot tea, a very generous but typical offering to guests even in these desperate times. Water was very precious now, Ahmed said in a rapid-fire and Syrian dialect Arabic that often required one of the NGO members to translate for me. In response to one of my queries, he lamented that the camp's inhabitants had to pay about $180 a month for water. It was so expensive, that they could not afford to pay the $250 a month for an itinerant school teacher to come to the camp. I very carefully sipped the sweet tea and thanked them profusely.
I spent about two hours at the camp, to better comprehend the unfolding tragedy, and Ali and I shot some documentary images.  Then, it was time to depart, and I was able to present the various things I had brought for just such a community, including 1000 Acetaminophen, 250 Aspirin, 1000 units Penicillin, 12 pairs kid's sunglasses, men's and women's shoes. There were many expressions of appreciation on their side–but also on mine, as I had made noble friends and been able to gain a valuable insight into the plight of these people.
During the one-hour car ride back to Amman with my two NGO contacts, Ali presented me with a very special gift, a black-and-white checkered keffiyeh head scarf. This article of clothing has become an emblem of Palestinian nationalism. I was deeply touched when he told me it was one his grandmother had sewn when they used to live in Palestine. I told him I would always cherish the item, and he smiled broadly.
The month of Ramadan and daytime fasting ended after that weekend. Since school was closed for the three day Eid al-Fitr holiday, I obtained directions from Ali and spent the afternoon in Baq'a Refugee Camp, which lies 20 km north of Amman, and is home to around 100,000 Palestinians. It had been opened in 1968 with just 5000 tents, but had expanded exponentially. Today, most tents have been replaced by permanent structures. I later gathered from some who resided there, that the Palestinians are largely marginalized in Jordan but some are able to work outside the camp in menial jobs. Before the Syrian refugee crisis led to the creation of Zaatari, it was the largest refugee camp in Jordan.
I arrived by taxi and was deposited in the central market area. Being the holiday, the activity was muted, and the nearby streets virtually deserted; at first it seemed that most people seemed to be inside their homes, relaxing and preparing for celebrations. Another of Israel's cruel and intense bombings of Gaza that week was on every Arab mind, and I could read the anger and frustration on th
e faces of participants in a noisy demonstration that abruptly headed my way from the direction of the neighborhood mosque. Many voices and signs decried Israel's continual assaults and infliction of trauma and death on Palestinians in the Gaza Strip and Occupied Territories.  So I was relieved that I was probably not perceived to be a typical USA man, as I had deliberately chosen to wear a shirt with a Brazilian flag design.
In addition to planning to tour this renowned refugee camp, I also intended to donate a laptop computer that my wife and I had bought just before I my trip. I observed a distinguished looking man wearing a white dishadasha, the traditional long men's gown, and asked him in Arabic if there was a health or assistance center for the camp and where it might be. He said there was, although it was closed. But he got on his cell phone and made a few calls, finally getting the center's director on the other end, who agreed to meet me. I was directed to the center, just a few blocks away.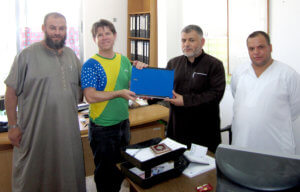 Soon I was at the Islamic Charity Center Society's building and met the director, Awwad, and his administrator, Sadi. The Center sponsors 1200 orphan children, 750 poor families, and provides health care to 2000 poor families. From my day pack, I extracted the laptop computer and mentioned I hoped it could be of use for the youth at the center, for education and training. The administrators expressed appreciation. After a few minutes of chatting about the Center's various projects assisting orphans, we posed for a photo and I walked back to the town center with my dishadasha-wearing guide.
I was then introduced by my guide to a trio of young men who would walk around part of the camp with me. I wanted to not only see how people lived, but also take some photos of streets and people, so I knew I would need an escort. We began at the main traffic circle of the camp, which was ringed by walls that held amazing works of street art. The messages were focused on peace and also honored various Palestinian martyrs. With my new guides, we walked through different streets in the torch of afternoon and I was able to ask them questions about the recent construction and some of the original structures.
One of the men, Thaer, noted that we were now at his house, and he invited me inside. The front gate opened to reveal a courtyard, and various rooms were offset from this area. I was introduced to his wife and three children. Thaer disappeared for a moment and suddenly returned with a well-worn Palestinian flag, which he wanted me to have as a gift. I noted that, save a small white star within the red chevron, the flag was virtually identical in design to that of Jordan.  Accepting the flag, I was touched by this symbolic gift of friendship. I reciprocated with some earrings and toys I had in my bag, for his children. They brought me into their living room, where they had been watching television from a couch, and seemed delighted to have a guest to visit with them for a few minutes.

The other two guides had drifted away when we left Thaer's house, so just the two of us continued on the tour of the camp. We came to an area that seemed particularly blighted, with some solitary tents and I asked Thaer who lived there. He stated these were Bedouin tents. I was able to meet with one of the families in this area and the father allowed me to take some photos. (One of the men had a bandaged injury on his nose.)  Later on, I discovered that these were not, in fact, Bedouins, but rather Roma people from an ancient diaspora who had settled on the outskirts of the camp. One could easily see that these people were the most precarious, ostracized, and impoverished in the area.
During the next two days of Eid, I studied and also visited other parts of Amman, often walking without any predetermined destination, as is my habit, and observed and photographed how people lived and worked, and the movements of the city. When it was time for me to return to the USA, I did so with lingering sadness, as the people had been so hospitable and helpful to me. And I had, in turn, discovered important aspects of their existence and struggles. In spite of some challenges and close calls in personal safety, my experience in Jordan was a remarkably positive one, and I felt that the understandings I gained on this trip would enable me to be a better diplomat.