I often have the feeling in Cuba that the people here are ever enduring a lengthy war.  They are the most resourceful people I have ever come across.  It's not just the renown ancient cars that are lovingly maintained and pressed into service for improbable years, but virtually everything has the look and feel of yesterday.  When I returned to Havana after another exhausting bus ride of 14 hours and to the first casa particular where I had stored some of my things, I realized that these three older women who are so fortunate to have had an apartment and its contents are the inhabitants of an edifice crumbling in their midst.  Shortly after Fidel and his ragged troops overcame the degenerate Batista regime in 1959, the Cuban elites fled to Florida and elsewhere with their education sense of status intact, bequeathing to the remaining a huge store of dwellings and all that were contained.  Should anyone be interested in going back in time, it's quite easy in Havana – just step into a house such as where I am staying, and peruse the Museum of Life.  Books on the shelves, lamps, pictures on the wall, tiles on the floor, all remain, if quite worn and weathered.  And it's all pressed into daily service – there are few options. If the inhabitants of the buried city of Pompei were to rise and wander their own houses and through their streets, I would be no less surprised.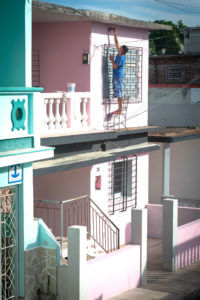 As I was waiting to leave Holguín, I looked out of my window and noticed a man across the street painting the front of his house.  He was perched precariously on a second-story ledge, standing on a delicately filigreed wire chair.  With one hand reaching up to apply the pink paint and the other simultaneously holding on to a small jar and the window grill using one finger.  Here is the perfect metaphor for the country: making do, throwing all caution to the wind, determined to prop up at whatever the effort.
When I recovered the duffel bag I had left behind in Havana, I was surprised at how heavy it was.  Did I really bring such a supply with me all the way from the United States?  When I rummaged through the bag, I found forgotten friends – a small bag of chocolates, half a bag of prized crackers, two cans of baked beans – and I considered how much more I would appreciate them for the next two weeks.  Also found was a bulging fanny pack with Cuban currency I had exchanged a week prior – so much, but so little – for I have found that the bills don't last long; it takes about four or five 50-peso notes to pay for just a short taxi trip, for example.  But over the past week in Cuba, I had somehow completely exhausted my store of exchanged money in my wallet, so I was relieved to have the replenishment.
After I rested for an hour and repacked my "walking-around photo bag," I headed out with a short list of three goals in mind: buy a ticket to the city of Trinidad, find a store where I could buy some crackers, and mail three postcards I had been unable to send while in Holguín.  After I descended the two flights of stairs and had inserted my earplugs – which I always use when walking through jangling and noisome city streets – I closed the front door behind me and sought out one particular beggar who I had made a sort of connection with on the first day in Havana.  I had a 50-peso note (about $2) folded and ready in my hand, but my friend was nowhere to be seen.  Instead, I noticed a camera – then two cameras – and two young men holding them as they paused on the sidewalk to chat.  "Fotógrafos?" I said, by way of introduction, and pointed to one of my cameras suspended from my shoulder, "Yo también!"  I was excited to meet anyone else who shared my mission to document here, and we struck up a brief conversation, as I mentioned where I had been and the images I seek.  They said there was to be an exhibition elsewhere in the city at 4 p.m. that day and invited me to attend.  I gave them one of my cards and promised to be at the exhibition, resuming my purposeful walk toward the post office some blocks ahead.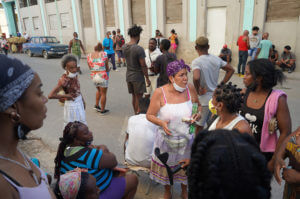 Another detour few minutes later, as I came across one street buzzing with activity, and intuited I had to pull out my camera to prepare for something special.  Some thirty individuals were milling around at the intersection, apparently waiting in the disorganized fashion so common for Cuban queues.  Here were the most disadvantaged folks, the ones living just on the edge, and also those with the darkest complexion.  I performed the trick I had mastered for so many years of blending into the walls, and prepared my most innocuous camera, a black Sony mirrorless model with a short zoom of 28 to 60 mm capable of excellent resolution.  One older woman, perhaps a grandmother, was gingerly holding an infant, and I focused on this abuela first.  She noticed me and approached, asked me if I "had anything for the baby".  I could only give her my 50-peso note, which she gratefully accepted.  To my right, another clot of three or four folks were engaging in animated chatter, so I dialed my camera to video mode and captured a minute of this – something I might use for a documentary.  But people were all good natured and didn't seem to mind the wait; the queue was so segmented and diffuse, I marveled at how they could keep track of who was first or last! 
What I really sought, however, was to get up to a 2nd floor apartment and point my camera down, for the angle I use in my Human Pulse series.  I entered one building and asked someone in the tiny lobby how I could take such a picture.  One young man offered to take me up, and I soon found myself in a creaky elevator with buttons falling off the walls.  He said he would take me to the top of the four-floor building, where I could see all of Havana, but I protested, said I only wanted to go to a lower floor.  When I exited on a lower floor, however, all the doors were locked or gated, so I returned with my escort to the lobby.  I asked some of those milling around the front if there was a chair I could use to stand on so I could get a bit higher, and was informed that for 200 pesos I could borrow one.  From this perch I made a few photos but there was little action, and I had my three-point goals of the morning in mind.  Before I could finish, one very determined and forthright young woman came closer.  "Caramellos?" she queried, wanting some sweets.  I only had a half roll of Mentos in my bag, and gave her these to share with her friends.  For a minute I smiled behind my virus mask at the puffed up cheeks around me as a half-dozen women enjoyed what was surely their first taste of such a treat.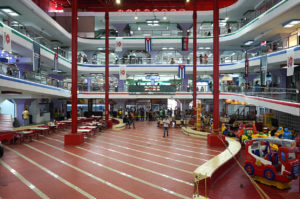 The weather that day was hot and humid, and, in spite of an occasional breeze, my shirt was already wet with sweat.  After mailing my postcards, I sought out what I had been told was a sure-fire place to buy some crackers.  It turned out to be a large mall with a four-story atrium, but when I walked inside and made some inquiries, the thought of such crackers was scoffed at by the security guard and another store clerk.  "Nope, we haven't had that or cookies for a long time!" I was told.  An entire mall and not a cracker to be found!  My search for a bus ticket to Trinidad was equally fruitless shortly thereafter, as I went to three different offices and was informed that there was no bus service there.  "How can that be?" I said, incredulous, for this was a major city on the map and one know to be a tourist destination of note.  The only solution offered to me was to take a bus to another city some 30 minutes away, Esperitu Santu, and hire a car to drive me to Trinidad.  This bit of information came from someone who fits my description of an "angel," one of the people who mysteriously come to me just when I am at my wit's end.  She was a visiting Cuban-American and, at first, I was very guarded, not replying to her question of my country of origin.  But my concerns abated when she offered many helpful tips, and at the end of our five-minute conversation, I thanked her profusely for her generous help to this visitor.
The photo exposition was delightful, and I found my two new friends there.  One of them introduced me to the Fototeca de Cuba exposition director, and I asked her to pose with me in front of some of the framed works.  One of my photographer friends said he planned to go to a religious festival near Havana I had on my calendar a week hence, and we agreed to look for each other there.  This young photographer was another surprise to me because he was shooting film not digital.  He said he would develop the film himself at home from chemicals he had friends bring in from the USA, and then have the negatives scanned for his further editing.  At one point in our conversation, he surveyed the surrounding scores of photographers and for some reason said, "None of them are Communists".  I wanted to know more about why this was and why he felt it was important to mention at that point, but he didn't seem to want to elaborate.  Perhaps he was just trying to set me at ease, thinking I had some bias.
Exciting the gallery a short time later, I found myself in a large town square with a fountain in the center and scores of people enjoying the relative coolness of late afternoon. I was surprised to note one woman had what looked like a can of 7-Up in her hand and she directed me to an adjacent tavern.  I had supposed such a treat was unobtainable in Cuba, but I was apparently wrong.  This fits perfectly into the paradigm of today's Cuba: if you need something and can afford it, with the right connections, you can eventually find it.  After downing the drink, I inspected the label with the aid of my flashlight and found it was an import from the Netherlands.  Taste was very satisfying, but was weirdly less sweet than what I had remembered, perhaps designed for European palates.  At the tavern I was finally able to buy a small pack of saltine crackers. 
A taxi ride back to my casa yielded more insight into the zeitgeist of Cuba.  The driver surveyed the bleak streets we passed, and said "Everything got worse with COVID-19 – all the tourists just stopped coming here.  Cuba thrives on tourism.  Look at this important hotel to the left: closed and out of business!"  I offered him some crackers and he gratefully accepted.
NEXT STORY