I had heard of a curious and festive event in Spain called La Tomatina a couple of years ago and thought it would be perfect to photograph. In 2008, through a series of fortuitous circumstances, I was able to make this journey. What is La Tomatina? Basically it's a huge food fight–more of a riot–using ripe tomatoes as missiles…and sources of youthful glee. It's held in the little Spanish town of Buñol, about 30 miles to the West of Valencia, in the country's East. Today, Buñol has some of the cleanest streets in the world, and this is why.
Although experts agree that the tomatina began in around 1944, no one quite knows the reason why. Various theories I've read claim that it might have been a food-fight that was held among a group of juveniles. Others state that it began as a punishment for an exceptionally bad musician. One of the more plausible explanations claims that the tomatina began as a response to the actions of a particularly unpopular local politician. 
No matter what the original cause for the mayhem, the event was so well enjoyed that it was repeated year after year and grew in popularity. It's always held on the last Wednesday of August, starting at 11:00 a.m.; this year, more than 21,000 people squeezed into the town's main street and joined in the fun. And I was there to capture it on film, be the recipient of hundreds of tomatoes thrown at my head and body, and hurl quite a few as well.
---
Inebriated young men removed their water-laden shirts, balling them up and throwing them at each other or in the air
---
I would first visit Buñol two days before the event, coming from the capital, Madrid, driving in a rented car, first to determine the lay of the land. I also wanted to scope out the best location to capture the action, seeking, as is typical in my photography for the ongoing series "The Human Pulse," a slightly higher vantage point.
Walking around the town, I noticed some of the parade floats from events held earlier in the week, for this is the week that the town hosts numerous activities to commemorate various religious and civic themes. I also spoke with some of the town's inhabitants, many of whom were already in a festive mood for the week.
My advance work determined the perfect location for my photography during the event, a small wall of about 3 feet in height, about 1 foot wide, from which I could see the center of the crowd but still be somewhat insulated from any panicky surges. Already the town center sported many blue and green plastic sheets on building façades, erected to protect stone and windows.
From my base at a Spanish girlfriend's house near Valencia, I set out again the next day to Buñol on the eve the big event.  I had discovered that the roads inside the town would be closed and I wanted to ensure I would not have any difficulty gaining access. I slept in my car on a small side street, but many of the town's guests slept in greater discomfort, I would discover the next morning as I walked toward the event's nexus.
At by about 8:00 a.m., I was at my "post."  People – mostly under 30 – began arriving by the thousands, seemingly from all over the globe. I met Koreans, Australians, and Americans, among others.  In spite of our bleary countenances, we were highly enthusiastic and in great spirits.
I began wrapping my two main cameras (35mm and 6×4.5 cm film format) in some plastic sheets I had saved up from dry-cleaned clothes, leaving only the lens and a hand access open on each.  I also had a good raincoat, leg protectors, and even some industrial goggles – as I had read these are quite useful and provide some safety. (I would hide my digital camera in my pocket and it is from this simple camera I and others I handed the camera to achieved miscellaneous color snapshots you see here.)

From 9 to 11 a.m. the participants multiplied, restless with anticipation. At some point, water hoses were brought out to a platform in front of the church and water was periodically sprayed upon the nearby crowds, who cheered lustily. Inebriated young men removed their water-laden shirts, balling them up and throwing them at each other or in the air, a precursor to the fruits to come.
The sun emerged from the clouds and a fresh breeze provided pleasant respite from the mounting tension. By about 10:45, I decided it was time for me to mount my perch, but once I rose among the crowd, I discovered that I became a prime target for the wet and dirty shirt missiles. Fortunately by this time I had fully geared up and was thus relatively impervious.  It was at this point that I captured my ultimately most successful image for my series.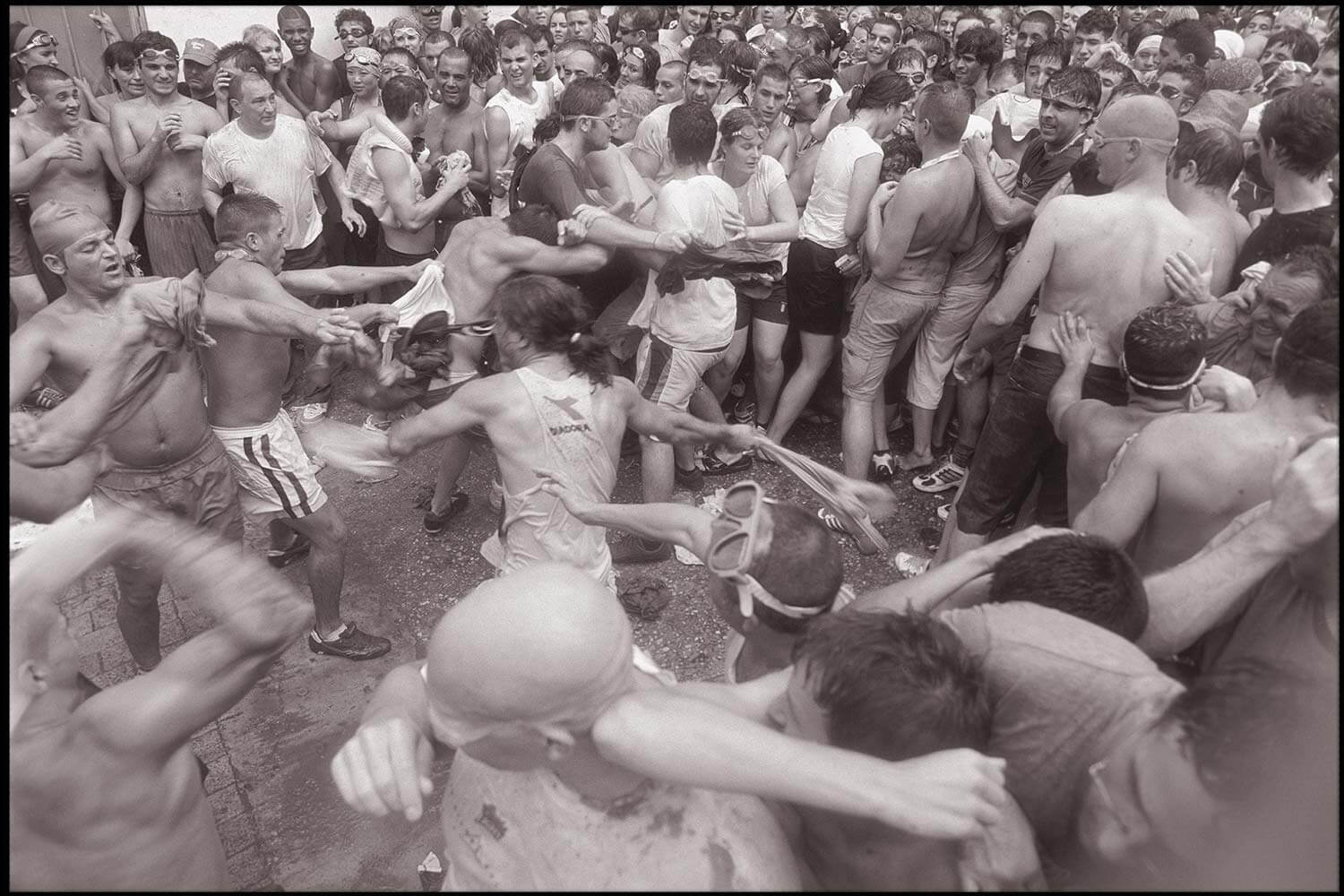 At exactly 11:00 a.m. an enormous canon explosion signaled the start of La Tomatina, and the crowd, now stretching for 20 blocks along the sinewy streets, cheered as one. A ponderous and tomato-laden truck lurched down the main artery, with a dozen riders hurling handsfull of the red fruit into the crowd; some of these were then caught and hurled again, a slowly growing stain upon the glistening hoards.
Soon the streets became rivers of red and seedy pulp, and the only thing more numerous than the tomatoes were the smiles of joy amongst participants. I continued to find myself mercilessly attacked from all sides, and soon my ears were ringing in pain from the enormous THWACK, as tomatoes hit their target; I regretted not bringing earplugs. About two times my goggles were even knocked aside, and my cameras seemed to require constant attention to remove stains from the protective UV lens filters. The pulpy liquid somehow entered my mouth a few times. I was incredibly lucky, however, to be located a few feet along the wall, so others on the wall were blocking some of my body.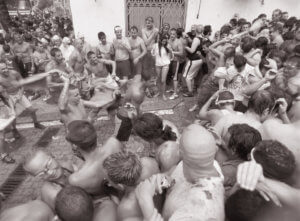 I felt I was in the perfect location to make my black-and-white studies of people in action with my large camera, and also capture some good quality images on my smaller camera loaded with color film. The greatest challenge for me as a photographer, however, came when I had to change each roll of black-and-white large format film, which is a very tedious and multi-step process.  I removed the film back and the spent film, carefully storing the roll in a water-tight bag, ensuring I didn't drop the bag as I secured it in a belt pouch, opening up a fresh roll of film, carefully threading it into the film back and closing the back properly. Even in the best of times I have had difficulty with this primitive procedure, but with the heat of battle all around I had to force myself to concentrate; failure would be a disappointing option. During the two hours of frenzy I was successful, however, in capturing eight rolls of film, each with 15 exposures, plus a roll of color transparency film of 36 exposures, and even 30 digital snapshots.
---
People began pushing and shoving and cries of anguish would rise from around me.
---
If I was able to note who had thrown a tomato at me, I would find one of the fruits caught on my camera bag and to target my retribution. But most of the time I was focused on focusing, which became increasingly challenging through stained goggles.
About an hour into the event I noticed the emergence of a darker side of the crowd. People began pushing and shoving and cries of anguish would rise from around me. Then groups of thuggish young men began seeking more personal outlet for their passions, and as a mysterious growth of some nebular cluster, circular openings would emerge in the crowd as tomatoes and soaked shirt balls were hurled at specific targets, or shirts were formed into long weapons of wet and threatening cloth.
It was like a multi-faceted knife fight, yet even here there were many a grins of glee. I saw one fellow try to egg on another into a real fight, but others quickly intervened. When the anger seemed about to get out of hand, cries of "tranquillo, tranquillo" rang out, to inoculate the atmosphere and restore a sense of good nature.
At 1:00 p.m. a second huge canon explosion was heard, signalling the end of the massive experience. People slowly emerged from their agitated and jubilant state, and hugged and congratulated each other for having survived. As for me, my cameras were thoroughly wet on the surface, and I worried that there might be some penetration of the liquid into the workings. I was quite exhausted but felt successful to have completed this personal mission.
My digital camera was also wet and so the lens became cloudy; hence the fuzzy nature of the images of people departing and rinsing off the red mess in their hair and on their bodies.The streets were rivers of pulp and seeds, citizens began the enormous clean up process and city workers struggled to clear the drains.
I stumbled toward a municipal water springs and stood in line to rinse off in the refreshingly cold bath, taking time to reflect on the experience. My right ear was ringing, I was exhausted and thirsty. Yet I was also somehow elated at having been a part of a ritual that was both primitive and releasing.  I felt a new and unexpected bond with the noble red tomato, which I will never again look at with disdain (it was always my least favorite food).  I felt both physically and spiritually cleaner.